News and Events
Community Invited to Aces Fan Fest
Posted: October 25, 2013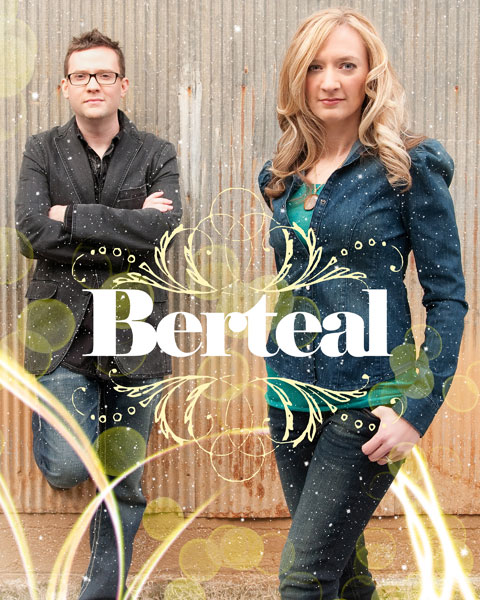 As part of Homecoming 2013 Reunion Weekend, the University of Evansville will host the third annual Aces Fan Fest, which is free and open to the community.
The Aces Fan Fest will take place from 1-4 p.m. Saturday, November 2 at the corner of Sixth and Locust streets, next to the Ford Center – where the UE women's basketball team plays the University of Southern Indiana at noon and the men's team plays the University of Illinois-Springfield at 4 p.m.
Aces Fan Fest will feature a performance by Berteal, an award-winning, sister-brother acoustic music duo featuring UE alumni Kim Gentry '97 and Chad Gentry '03. The band will perform from 1-2:30 p.m.
Berteal's recent accolades include best group/duo in the 2012 International Acoustic Music Awards, finalists in the USA Songwriting Competition (which earned them a performance at SXSW in Austin, Texas), and a 2013 showcase at the renowned Bluebird Cafe in Nashville, Tennessee. Berteal also placed second in the 2013 Woody Guthrie Songwriting Contest, winning a performance slot at the Woody Guthrie Folk Festival in Oklahoma.
Other activities at the Aces Fan Fest include food vendors, a beer garden, a chili cook-off, a student dance crew competition (2:30-3 p.m.), a performance by local musician Scott Winzinger (3-4 p.m.), photos with UE mascot Ace Purple, and children's activities.
UE Homecoming to Feature Speakers on Law, Medicine, and History
Posted: October 24, 2013
As part of Homecoming 2013 Reunion Weekend, the University of Evansville will host several speaker series events that are free and open to the community.
The following lectures are slated for Homecoming weekend, November 1-3:
• Sixth Annual Homecoming Alumni Speaker: Larry Mackey '73 will present "Here Comes Our Pigeon" at 10 a.m. Saturday, November 2 in Eykamp Hall, Room 252 in the Ridgway University Center. Mackey, a trial attorney and partner at Barnes & Thornburg LLP in Indianapolis, will discuss his experiences as a UE student and a member of the Oklahoma City bombing prosecution team.
• Dr. Guy Banta Distinguished Lecture Series for Natural Sciences and Mathematics: Dr. Joshua Fessel '99 will present "Bench to Bedside: Medical Research in the 21st Century" at 2:30 p.m. Friday, November 1 in Vectren Lecture Hall, Room 100 of the Koch Center for Engineering and Science. After graduating from UE, Fessel earned an MD and PhD from Vanderbilt University, where he is currently an assistant professor in the departments of medicine and pharmacology. He divides his time between patient care and research.
• Thomas C. Fiddick Memorial Lecture: Olivia Remie Constable, professor of medieval history and the Robert M. Conway Director of the Medieval Institute at the University of Notre Dame, will present "Changing Views of Islam in Spain Between the Middle Ages and the Early Modern Period" at 7 p.m. Friday, November 1 in Eykamp Hall, Room 251 in the Ridgway University Center.
Professor Kopta and UE Alumni Accomplishments
Posted: September 27, 2013
My CelestHealth Research Group (CHRG) has recently had papers published or in press for publication. Kopta et al (in press) is an especially interesting study. One of our recent graduates Danielle Raymond is a coauthor with counseling center Directors from Johns Hopkins University, Harvard University, and University of Minnesota as well as faculty from Marquette University. This study included a research sample of over 13,000 patients and 400 psychotherapists. Additionally, UE graduate Craig Bryan, who is now a professor at the University of Utah, is first author on another paper (Bryan, Kopta, & Lowes, 2012).
Stulz, N., Lutz, W., Kopta, S.M., Minami, T., & Saunders, S. (in press). The shape of the dose-effect relationship in outpatient psychotherapy: Does treatment duration matter? Journal of Counseling Psychology.
Kopta, S.M., Petrik, M., Saunders, S., Mond, M., Hirsch, G., Kadison, R., and Raymond, D. (in press). The utility of an efficient outcomes assessment system at university counseling centers. Journal of College Student Psychotherapy.
Budge, S.L., Owen, J.J., Kopta, S.M., Minami, T., Hanson, M.R., & Hirsch, G. (2013). Differences among trainees in client outcomes associated with the phase model of change. Psychotherapy, 50, 150-157.
Bryan, C.J., Kopta, S.M., & Lowes, B.D. (2012). The CelestHealth System. Integrating Science and Practice, 2, 7-11.
Professor Maggie Stevenson, Along with UE Alums as Co-authors, Have Published Three New Articles
Posted: September 26, 2013
Assistant Professor of Psychology Maggie Stevenson has recently published three journal articles. One manuscript, titled "Socioeconomic Status Influences Perceptions of Juvenile Offenders Tried in Adult Court" was published in the current issue of Psychology, Crime, and Law (vol. 9) and is co-authored with a UE psychology major alum, Katlyn Farnum (Sorenson), who is currently a doctoral student of psychology at the University of Nebraska, Lincoln.
Another paper, titled "Knowledge of Juvenile Sex Offender Registration Laws Predicts Adolescent Sexual Behavior," was published in The Journal of Child Sexual Abuse (vol. 22). Stevenson published a third journal article in the same journal (vol. 22) titled "Predictors of Public Support for Juvenile Sex Offender Registration: Educated Individuals Recognize the Flaws of Juvenile Registration Policies." This manuscript included three UE psychology major alum co-authors Amy Smith, Ady Sekley, and Katlyn Farnum (Sorenson)
Ken Schmidt to Speak in Indianapolis, Evansville March 14
Posted: February 20, 2013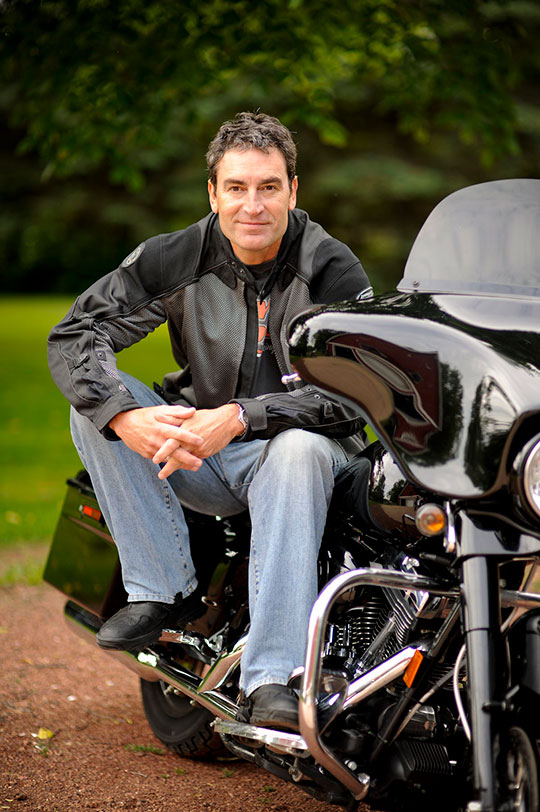 The Institute for Global Enterprise, part of the Schroeder School of Business at the University of Evansville, will host former Harley-Davidson communications director Ken Schmidt in Indianapolis and Evansville on Thursday, March 14. As part of the Institute Speaker Series, Schmidt will discuss "Going Global: Succeeding in the International Marketplace."
Schmidt's appearance in Indianapolis is presented in partnership with the Rotary Club of Indianapolis. Registration begins at 11:30 a.m. local time, and Schmidt will speak at noon at the Scottish Rite Cathedral, 650 N. Meridian St. Each ticket costs $20 and includes lunch. Guests may purchase a maximum of four tickets through the University of Evansville at www.uealumnionline.com/kenschmidt or 812-488-2706, or through the Rotary Club of Indianapolis at www.indyrotary.org or 317-631-3733.
Schmidt will speak that evening in Evansville at 6:00 p.m. local time at the Aiken Theatre at The Centre, 715 Locust St. This event is free and open to the public, with no tickets required. Doors open at 5:00 p.m., and seating is first come, first served. For more information, please visit www.globalindiana.com or contact the Institute for Global Enterprise at 812-488-2455 or globalindiana@evansville.edu.
Schmidt has been associated with Harley-Davidson Motor Company since 1985, and his success in helping rebuild the company's brand played a vital role in the motorcycle legend's turnaround from the brink of ruin to global dominance.
In his role as Harley's director of communication, Schmidt shaped the company's positioning and served as its primary spokesperson to the media and financial communities. Now semi-retired, Schmidt provides brand-building expertise to many of the world's best-known businesses. But to this day, Harley-Davidson remains his primary business partner and his strongest passion.
He co-wrote a book, 100 Years of Harley-Davidson, which is the best-selling motor sports book of all time. He has appeared on network television numerous times, and spoken to hundreds of audiences around the world.
The Institute for Global Enterprise wishes to thank Old National Bank for its generous support of these Institute Speaker Series events, and Bud's Harley Davidson for its support of Schmidt's Evansville appearance.
This program was made possible in part by the generous support of the Lilly Endowment.
159th Founders Day Celebrated February 17: Alumni Association Awards Presented
Posted: January 22, 2013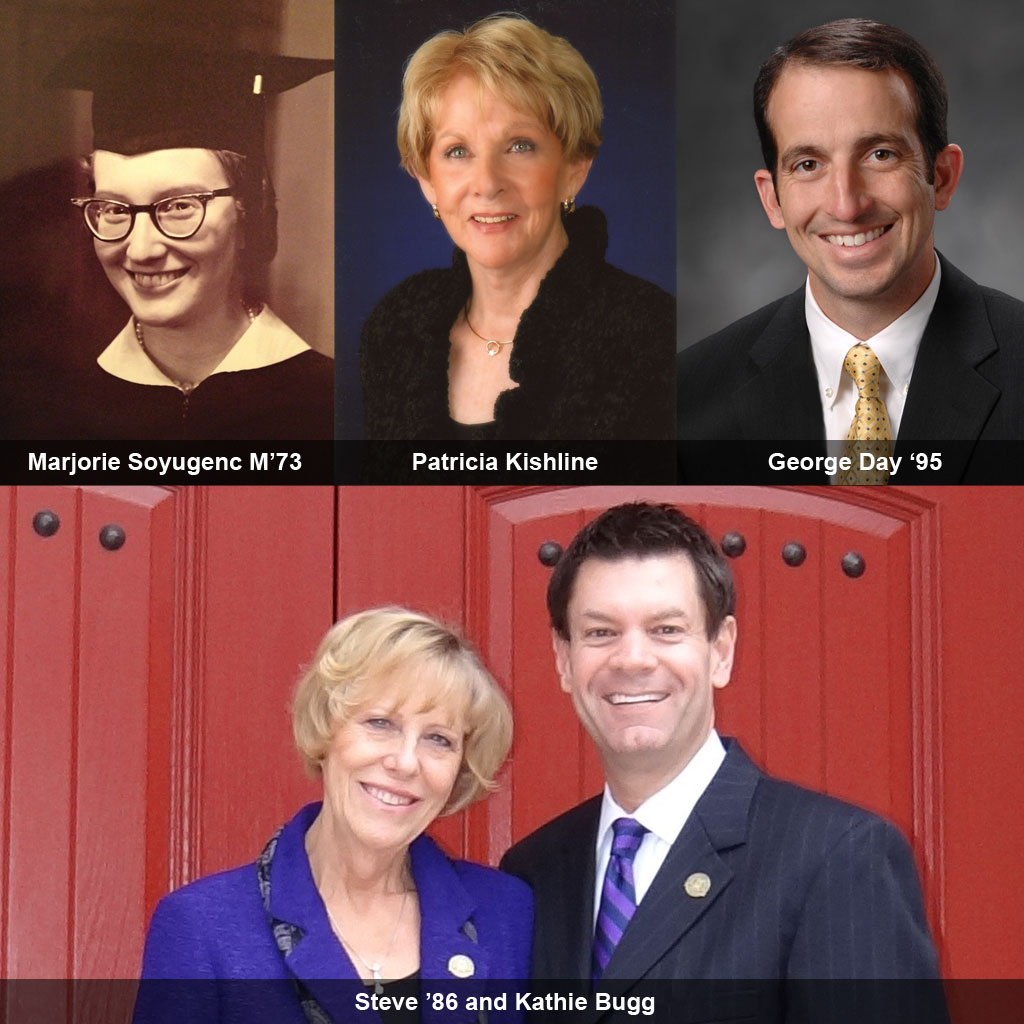 Sunday, February 17, 2013 the 159th Founders Day will be celebrated at UE. The worship service and convocation will begin at 10:30 a.m. in Neu Chapel. Faculty rising to the rank of full professor will be presented their purple tams and the Rev. the Lord Leslie Griffiths will give the Edgar M. McKown Lecture. Rev. Griffiths is the superintendent minister of Wesley's Chapel, the Cathedral of World Methodism in London.
The UE Alumni Association will sponsor a luncheon following the service. At noon in Eykamp Hall of the Ridgway Center a lunch will be served and the following awards will be presented:
Marjorie Soyugenc M'73
Posthumous Distinguished Alumna Award

George Day '95
Young Alumni Award

Patricia Kishline
Samuel Orr Honorary Alumna Award

Steve '86 and Kathie Bugg
Edie Bates Volunteer Service Award
All alumni are welcome to both events. Registration is required for the luncheon; cost is $12 per person. Register online at www.uealumnionline.com/foundersday2013.
UE Social Media Fundraising Campaign Wins Regional Award
Posted: December 11, 2012
The University of Evansville has received a regional award from CASE, the Council for Advancement and Support of Education, for its innovative approaches to fundraising.
The University won the bronze Pride of CASE V award in the category of "Best Program in Annual Giving" for UEGive: 24, the University's first-ever social media fundraising campaign, which took place in March 2012.
The award was presented yesterday afternoon at Chicago's Sheraton Hotel and Towers at the annual conference for CASE regions V and VI, which brings together professionals in alumni relations, development, and marketing and communications from educational institutions across the Midwest. Region V, to which UE belongs, includes schools in Illinois, Indiana, Michigan, Minnesota, Ohio, and Wisconsin.
UEGive: 24 was part of Philanthropy Week, a new initiative to educate UE students on the importance of giving. The campaign encouraged alumni, parents, students, employees, and friends of the University to financially support the institution with a gift of $24, then ask 24 friends to also make a gift to UE online. The entire campaign was conducted through use of electronic communication and social media, including Facebook, Twitter, and e-mail.
By the end of the 24-hour campaign, 252 individuals had made gifts to the University, including 107 new alumni donors for the fiscal year and 37 first-time alumni donors. UEGive: 24 raised $7,021 for student scholarships, exceeding the goal of $5,000.
Another UEGive: 24 campaign is scheduled to take place on Thursday, March 21, 2013, during the second annual Philanthropy Week (March 18-22).
"I'm very proud of our development team for their innovative approach to raising funds in support of the University, and we're honored to be recognized by CASE for these efforts," said Jack Barner, UE vice president for development. "UEGive: 24 is a great example of how the University can connect with a truly limitless audience to achieve and surpass a goal, and we look forward to another successful social media campaign in the spring during Philanthropy Week."
For a full list of award winners, please visit the Pride of CASE V website.
Five Join UE Alumni Association Board of Directors
Posted: December 6, 2012
The University of Evansville Alumni Association Board of Directors has elected five new members to its ranks.
New board members are:
• Lilah Gael of Tacoma, Washington, a 2001 UE graduate
• Trevor Gregory of Indianapolis, Indiana, a 2010 UE graduate
• Jill Swiz of Evansville, Indiana, a 2001 UE graduate
• Ted Todd of Naples, Florida, a 1985 UE graduate
• Jeffrey Werner of Brownsburg, Indiana, a 1999 UE graduate
The University of Evansville Alumni Association Board of Directors represents the alumni at large and serves as an advisory board to the University and the Board of Trustees. The Alumni Board fosters long-term relationships, involvement, and support of the University. The nominating committee of the board strives for a diverse membership in terms of class year, major, geographic location, activities, gender, and race when selecting new directors for the 36-member voting body.
Members of the alumni board serve three-year terms with the option of two consecutive terms. The board meets on campus three Saturdays per year.
2013 Alumni Cruise to Alaska
Posted: October 17, 2012
Alaska Sawyer Glacier Cruise
Rhapsody of the Seas Ship
July 19 - 26, 2013
Changes to the UE Affinity Credit Card
Posted: September 1, 2012
Based on a decision made by Bank of America, the University of Evansville Alumni Association no longer has an affinity credit card program with Bank of America.
Current cardholders may still use their accounts, but the University of Evansville will not receive benefits from use of the credit card. Bank of America will remove the University of Evansville logo from credit cards as they are reissued. The UE Alumni Association is currently in the process of establishing a new affinity card program with a new financial institution.
UE Alumni Association Alumni 2013 Directory Project Now Underway
Posted: September 1, 2012
The University of Evansville Alumni Association is partnering with Publishing Concepts Inc. (PCI) on the 2013 issue of the UE Alumni Directory.
The process of updating and confirming addresses began in July of 2012 and will run through the fall. Alumni may find out more details. The last UE Alumni Association Print Directory was published in 2008.