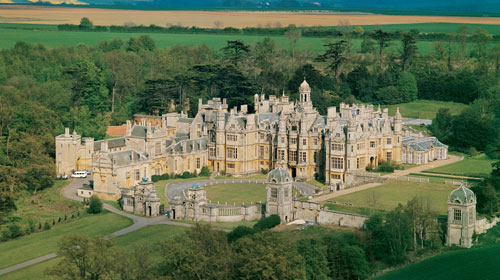 Harlaxton College
Did you study at Harlaxton during your time in college? If so, you are a member of the Harlaxton Society, the alumni association for UE's British campus.
Harlaxton Society
If you attended Harlaxton as a student, faculty member, or staff member, then you are automatically a member of the Harlaxton Society.
Supported by the Office of Alumni and Parent Relations at UE, the Harlaxton Society is the alumni association for Harlaxton College, and is open to ALL Harlaxton alumni. To become an active member, all you have to do is send us your up-to-date contact information; once you are active, you will receive notices by post and e-mail of all Harlaxton Society events and programs, as well as other publications with updates about Harlaxton.
Online registration now open for the 2014 Harlaxton Alumni Trip
The Harlaxton Society is sponsoring a week-long stay at Harlaxton Manor open to all UE and Harlaxton alumni and friends, July 25 – August 1, 2014. Find out more information and register online.
Former Harlaxton Faculty Member visited UE in November
Dr. Peter Humfrey, emeritus professor of art history at the University of St. Andrews, Scotland, opened International Education week at UE. His lecture, "Of Heaven and Earth: the Exhibition of Italian Paintings from Glasgow at Oklahoma City", was presented on Monday, November 18. The Harlaxton Society welcomed him to UE with a cocktail reception on Saturday, November 16, at the May House.
Dr. Humfrey, a leading art historian in the UK, retired from St. Andrews in 2012. He taught at Harlaxton from 1971 – 1974 when UE's program was just beginning.
He is the author of numerous publications on Italian Renaissance art, including a monograph on Titian, and an introductory survey of Painting in Renaissance Venice. He has served on the committees of several major international loan exhibitions, including at the National Gallery of Art, Washington, the Metropolitan Museum of Art, New York, and the J. Paul Getty Museum, Los Angeles. He is guest curator of of the exhibition "Of Heaven and Earth: the Exhibition of Italian Paintings from Glasgow at Oklahoma City", currently touring five venues in North America. In 2005 he received the award of Cavaliere dell'Ordine della Stella della Solidarietà Italiana for services to Italian culture.
Gregory Gregory Day Events Held in Evansville, Indianapolis, South Bend, Chicago and Cincinnati
The Harlaxton Society celebrates the man behind Harlaxton and Harlaxton College every fall in honor of his birthday, October 9. View pictures from this year's events on the Harlaxton Society Facebook group page.
Harlaxton Society Endowment Campaign
The Harlaxton Society Board of Directors is leading efforts to raise $200,000 to endow the Harlaxton Society Scholarships. Each year 20 UE students receive $500 scholarships toward their studies at Harlaxton. The board regularly hears back from the students grateful for the extra help that allowed them to get the full Harlaxton Experience. These gifts do make a difference.
Currently $100,000.00 in gifts and pledges has been received. More help is needed from Harlaxton Alumni who can make possible the tradition for more students. Please consider making a gift. You can give online. Be sure to indicate Harlaxton Society under Gift Designation.
Harlaxton Giving Incentive
Donors who give $500 or more to any of the Harlaxton funds will receive a copy of George Speckert's original work, An English Experience. George, a member of the first class at Harlaxton, composed six musical interludes and set them to video of the Manor and local village.View a short excerpt and find out more about George.