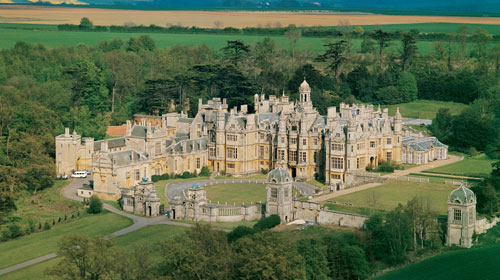 Harlaxton College
Did you study at Harlaxton during your time in college? If so, you are a member of the Harlaxton Society, the alumni association for UE's British campus.
Harlaxton Society
If you attended Harlaxton as a student, faculty member, or staff member, then you are automatically a member of the Harlaxton Society.
Supported by the Office of Alumni and Parent Relations at UE, the Harlaxton Society is the alumni association for Harlaxton College, and is open to ALL Harlaxton alumni. To become an active member, all you have to do is send us your up-to-date contact information; once you are active, you will receive notices by post and e-mail of all Harlaxton Society events and programs, as well as other publications with updates about Harlaxton.
Harlaxton Society Endowment Campaign
The Harlaxton Society Board of Directors is leading efforts to raise $200,000 to endow the Harlaxton Society Scholarships. Each year 20 UE students receive $500 scholarships toward their studies at Harlaxton. The board regularly hears back from the students grateful for the extra help that allowed them to get the full Harlaxton Experience. These gifts do make a difference.
Currently $158,000.00 in gifts and pledges has been received. More help is needed from Harlaxton Alumni who can make possible the tradition for more students. Please consider making a gift. You can give online. Be sure to indicate Harlaxton Society under Gift Designation.
The Harlaxton Society awarded 12 scholarships to UE students studying at Harlaxton Fall semester 2014 at their on campus meeting, April 25, 2014. Pictured are six of the recipients and members of the board.
Harlaxton Society May 2014 E-newsletter
Read Dr. Kingsley's farewell message here.
Harlaxton Giving Incentive
Donors who give $500 or more to any of the Harlaxton funds will receive a copy of George Speckert's original work, An English Experience. George, a member of the first class at Harlaxton, composed six musical interludes and set them to video of the Manor and local village.View a short excerpt and find out more about George.
Harlaxton Society Upcoming Events:
Sunday, July 13 – Louisville Harlaxton Society Gathering
Thursday, October 9 – Gregory Gregory Day Celebrated in Evansville
Saturday, October 11 – Gregory Gregory Day Celebrated in Indianapolis
Harlaxton Society Call for new board members
The Harlaxton Society Board of Directors will have four openings for director terms beginning January 2015. The nominating committee will accept nominations now through August. If you would like to nominate someone or yourself, please e-mail alumni@evansville.edu. Find out more about the Board.