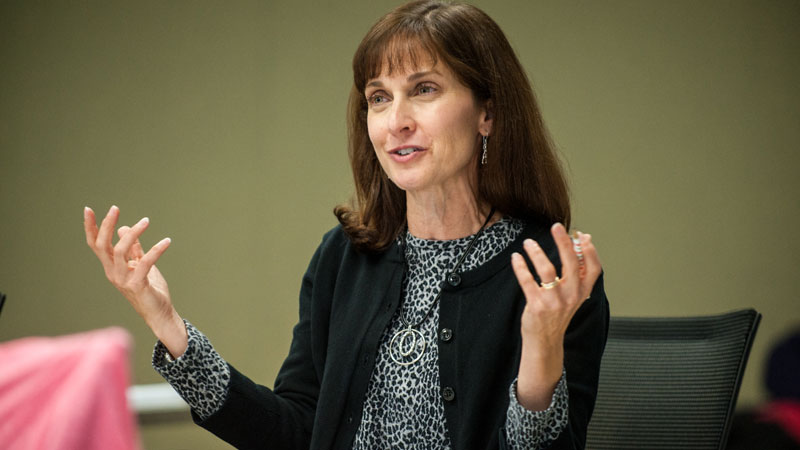 Management
Associate Professor Laura Paglis is among the talented faculty in UE's Schroeder School of Business helping mentor students in the Management major.
Management
The University of Evansville's management major requires completion of 124 semester hours, allocated as follows:
The University's general education requirements – 41 hours
The Schroeder School of Business common core – 45 hours
The marketing major area – 18 hours or more, and
Free electives for the balance of the 124 hour total – approximately 20 hours
General education – 41 hours, including
Interdisciplinary 150: The American Corporation
Management 497: Global Strategic Management
Mathematics 134: Survey of Calculus or Mathematics 221: Calculus I
Courses in economics cannot be used to satisfy the Human Behavior and Society requirement.
Common Core – 45 hours
The purpose of the common core is to provide students with careful preparation in the fundamental tools of decision making and leadership. All management majors complete the following courses:
Accounting 210: Principles of Accounting I
Accounting 211: Principles of Accounting II
Business 269: Fundamentals of Entrepreneurship
Business 270: Experience in Entrepreneurship
Business 398: Internship in Business
Economics 101: Principles of Macroeconomics
Economics 102: Principles of Microeconomics
Experiential Education 090: Building a Professional Image
Finance 361: Fundamentals of Finance
Law 201: Legal Environment of Business
Management 310: Production Operations Management
Management 311: Management Information Systems
Management 377: Organizational Behavior
Marketing 325: Principles of Marketing
Quantitative Methods 227: Introduction to Statistics
Software Application 110: Introduction to Software Applications
Major – 18 hours (or more)
Required:

Management 306: Human Resources
Five or more courses chosen from the following:

Management 331: International Business Strategy
Management 402: Compensation and Benefits
Management 412: Leadership
Management 430: Decision Making
Management 445: Database Management
Management 450: Knowledge Management
Management 455: Global Supply Chain Issues in Mfg.
*Management 380: Special Topics in Management
*Management 395: Independent Study

May substitute one course from the following list:

Communication 380: Intercultural Communication
Communication 382: Team Building & Group Communication
Communication 383: Conflict Management
Communication 388: Organizational Communication Models
*Only one independent study or special topics course will be counted in the major.
Free Electives – remaining hours to total 124 hours (approximately 20 hours needed)